The air fryer is the perfect way to cook crispy, delicious appetizers. From crispy chicken wings to hot bubbly cheese dip, bite-sized snacks to share plates of nachos and fries, and everything in-between. The air fryer makes appetizer cooking quick and easy. This collection of more than 30 air fryer appetizers has something for everyone.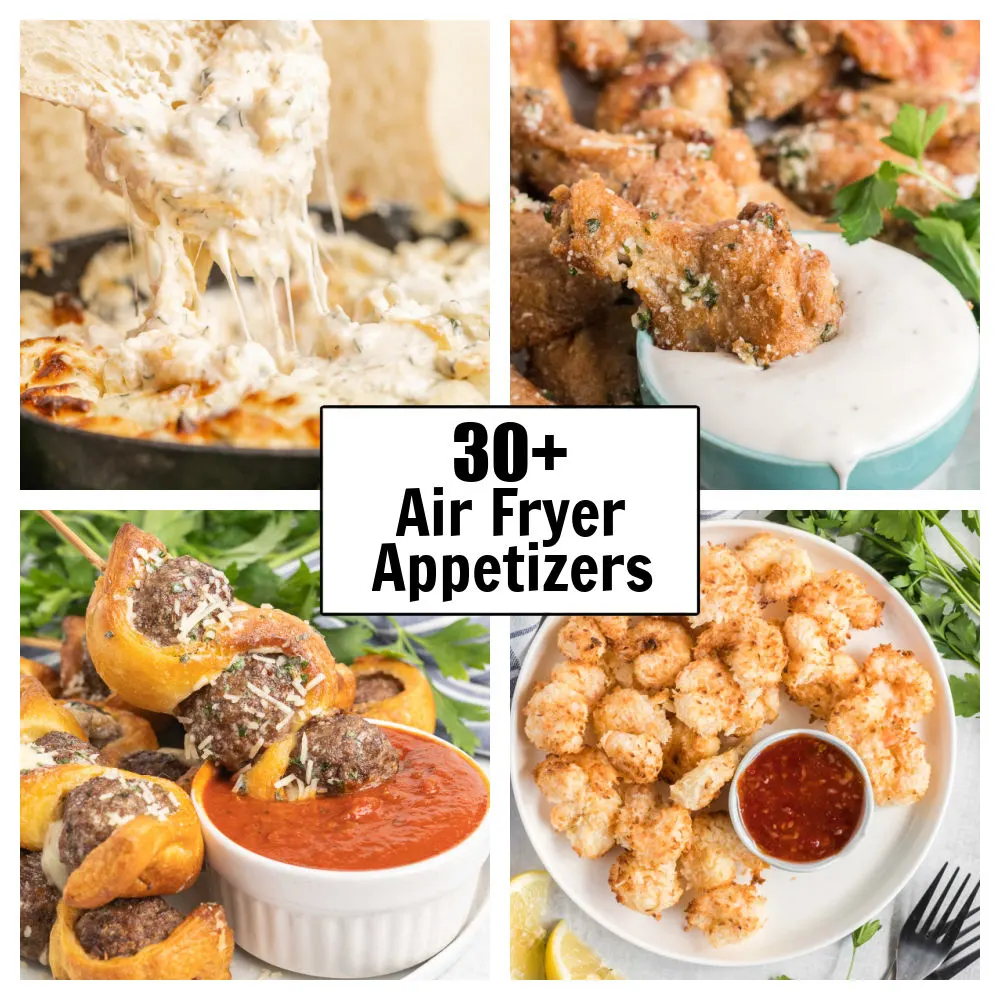 Jump to:
This post may contain affiliate links. As an Amazon Associate, I earn from qualifying purchases.
We love using our air fryer for making delicious, homemade appetizers. The air fryer is the perfect way to make crispy, perfectly cooked appetizers quickly.
Because it cooks quickly you can make multiple batches of appetizers throughout the day without much work. Especially if you have everything ready and just have to pop them into the basket.
This is great when you want to make small batches of many appetizer varieties. Or when people are arriving all through the day and you want to refresh the platter with hot snacks, such as New Year's or game-day.
We have used our air fryer for everything, from the ever-popular chicken wings to crispy breaded shrimp. From roll-ups like spicy chicken taquitos to hot, bubbly cheese dip.
And if you are just cooking for yourself, or a late-night snack, then the air fryer is perfect because of its smaller size and quick cook-time.
We've selected more than 30 delicious appetizers for this collection that we think you will love. There is something for everyone.
Click here to join our Facebook Group : Air Fryer & Instant Pot Recipes and Tips
Air Fryer Chicken Wings
Chicken wings are one of the most requested air fryer appetizer recipes. The good news is that the air fryer cooks beautifully crispy wings with little effort. It cooks quickly and evenly and gets those wings just as crispy as if they were cooked in a deep fat fryer.
There are endless variations to choose from, but for this collection, we've chosen some of our favourites. From spicy buffalo wings to garlicky parmesan wings, milder BBQ wings, and simply seasoned crispy wings there is a wing for everyone.
Are you making your own recipe, or reheating some frozen appetizers but are unsure how long to cook them for? Visit our comprehensive post on air fryer cooking times and get your free printable air fryer cooking chart.
Air Fried Seafood
We love using our air fryer for cooking seafood appetizers. Because the air fryer uses air circulation to cook, it cooks quickly allowing that delicious seafood to stay plump and juicy. Anything with a breading will have a crisp exterior while the seafood will stay deliciously tender.
We've selected some of our favourites to include in our collection. We think you will love air fryer shrimp Rangoon dipped in spicy chili sauce, spicy firecracker shrimp, or air-fried scallops and bacon.
Air Fried Rolls & Wraps
We love rolls and wraps as an appetizer. They work well because they are perfectly packaged into easy, portable finger food. Which makes them easy to eat as you stand around and mingle.
Rolls and wraps come in all shapes and sizes and can be filled with almost anything. Some of our favourites are spicy buffalo chicken taquitos, meatball sub skewers, and the kids' choice, pigs in a blanket.
Air Fryer Vegetable Appetizers
Every appetizer platter should have one or two vegetable options. It is easy to add a few raw veggies and a dish of dip, but you can also dress them up and make them more exciting.
Using the air fryer it is easy to add some variety to your veggies without adding a bunch of fat. We love making breaded zucchini sticks in the air fryer because they are soft and tender on the inside while being crispy on the outside. Air fried cauliflower tots are a delicious, lighter take on the popular potato snack and air fried crispy green beans are a delicious finger food for dipping.
Air Fried Cheesy Bites
What appetizer night would be complete without something cheesy?
An air fryer is a fantastic appliance for creating melty, bubbly cheese in a fraction of the time it takes in a conventional oven.
We love air-fried cheesy stuffed mushrooms, jalapeno poppers, and air fryer pizza nachos. And one of our favourites is air fryer cheese dip which always disappears quickly.
We've made sure to include a variety of cheesy appetizers in our collection.
Accessories You Might Need
This post may contain affiliate links. As an Amazon Associate, I earn from qualifying purchases.
When it comes to air frying, there are a few accessories that can make things easier. Whether it is to keep food from sticking to the basket, or misting a bit of oil to help the food crisp.
We've selected a few of the things we use in our kitchen regularly and wouldn't be without them.
Air Fryer – We love and use the Cosori 5.8qt air fryer. The capacity of the basket is a nice size for 2-4 people. We've found that this air fryer cooks quickly and evenly and the non-stick basket is easy to clean. The appliance isn't too big and fits on our countertop, tucking under the top cabinets with lots of room to spare.
Parchment paper – Parchment paper helps keep food from sticking to the basket, or small items from falling through the holes. It can also help lift things in and out of the basket easily. You can cut your own parchment paper from a roll and punch some holes in it, but we like to purchase parchment paper that has been designed for the air fryer. It fits perfectly in the basket and has the holes pre-punched, which is important for air circulation.
Oil mister – An oil mister allows you to add just a spritz of oil to the food to help with crisping. This isn't always necessary but does help brown certain foods, especially if they are breaded. With the oil mister, you can add your own olive or vegetable oil, depending on what you like. Make sure to stay away from aerosol cooking sprays as these contain additives that break down the non-stick finish of the air fryer.
Make sure you save this post by clicking the little heart icon on the bottom right and pin it so you can come back to it whenever you are looking for a new air fryer appetizer to try!